Benefits of Mixed Reality for skilled craft
Touchable Knowledge

Learning materials become visual, practice-oriented, and will be effectively mediated

Gamification equals fun

Creating easy access to complicated topics

Safe simulation

Trainings are independent of time and location, no wear and tear of material

Saves costs

On education and learning materials, Interruptions of the production process are avoided

Confidence boost

For apprentices and relief for coaches through practical training.
"Virtual training simulations cannot completely replace real training, but they do enable effective learning of workflows in a tangible way that cannot be achieved with traditional media."
Nadine Mlakar, UX Design NMY
Innovative advertising for skilled craft

Example of Application: Laying Tiles in VR
Customers of American DIY store Lowe's learn basic DIY skills in an interactive VR application that enables them to carry out a bathroom renovation. The result: In comparison to a simple YouTube tutorial, the participants of the VR training were able to access and apply learning content 36% better.
Especially interesting for the following professional groups: Painters, tilers.
Getting to know tools: Which ones are there? What are they used for? How are they properly handled?

Getting to know the building material

Confidence: Overcoming fears of contact and strengthening technical abilities

Creativity: Experimenting with tile colors and shapes

Advantage and disadvantage: You will not get dirty – unlike in real life
Example of Application: Chainsaw Simulation Game
Players dislodge logs in a VR limbing competition. In tool manufacturer Husqvana's VR simulation game "Limberjack", players compete in rankings for the "golden chainsaw". Speed and a good posture are important, because whoever would have injured himself with uncoordinated movements in the real world will lose points.
Interesting for the following professional groups: Forester, landscape gardener, arborist.
Online rankings enable global competition between players

Crowd magnet at trade shows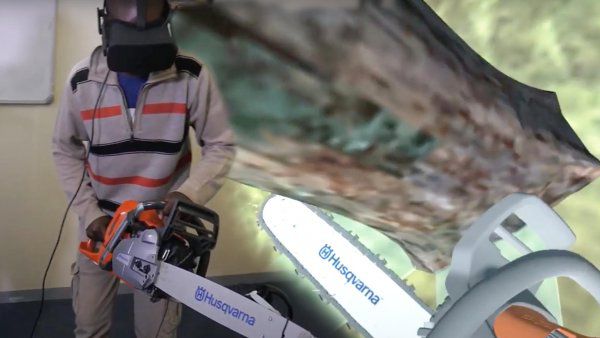 Training on real devices is also supported and extended with digital tools. This leads to a better simulation of the handling and haptics of the devices – making sure nothing stands in the way of realistic training. The example video demonstrates from forestry South Africa demonstrates how it is done.
Watch video
The Digitalization of Education
Example of Application: VR and AR printing machine
In Heidelberger Druckmaschinen AG's virtual training, students explore components on their own.
Flexibility: Production does not have to be stopped to accommodate apprentices

Simplification: Complicated processes are taught interactively and can be tried and tested without limitation

Simulation is inexpensive and independent of location
Example of Application: Training maintenance staff
Maintenance staff of plant manufacturers and operators of the GEMÜ Group is interactively led through a step-by-step simulation.

Individualization: Participants configure their own avatar

Feedback: Learning process is displayed

Sustainable knowledge transfer: Learned skills are better retained

Efficient progress tracking: The correct execution of work steps are checked automatically
XR Technology as tool for handicraft work
Example of Application: Dynamics 365 Remote Assist
An augmented reality headset and mobile app enable the remote maintenance of specific machines during multi-user online conferences with the help of skilled staff.
Remote Maintenance Benefits
New employees work at a similar level as experienced employees

Hands-free option through voice assistant

Less environmental damage and fewer transport costs

Team communication is easier

Extended collaboration possibilities: draw up sketches together, mark objects
Example of Application: Tutorials for machine maintenance
With Craftguide's 3D app, mechanics are guided step by step through manual workflows. Maintenance and repairs can be carried out without having to study operating instructions.
Step by step instruction with detailed interactive visualizations

Easy and quick access to information about specific machine parts

3D technology as a part of an originally analog process
Conclusion
"The latest media technology is an image boost for training and trade. In addition, innovative learning concepts and immersive training simulations support sustainable learning success. Immersive technologies also have a wide range of possible applications for skilled crafts: As tools, in digitalized planning, or for customer consultation in virtual environments. The use of mixed-reality technologies represents an important milestone in the digitization of almost all areas of the craft trade."
Nadine Mlakar, UX Design NMY
You would love to learn more about XR trainings?
You have the development of an XR project on the table?