New Learning Experiences
VR Training for Companies
Get in touch
Better Learning with VR
With virtual reality training, companies can act more sustainably and efficiently than ever before, provided they invest in the right applications. Employees and customers are placed in an individually designed and interactive learning environment where they can be trained interactively just like in the real world - and far beyond. The following article shows how VR training can be used, what advantages it has and for which application scenarios and target groups it is suitable. It also explains what to look out for during implementation and what best practices look like.
How to implement VR trainings and what the benefits are
Learning worlds not textbooks
VR-Training offers the possibility to display real training digitally. In these digitalized trainings, additional instructions or parameters can then be displayed, such as technical data or work tasks, which appear in text form in the field of vision in the virtual environment. VR training is also independent of time and place, making it particularly flexible and allowing detailed and automated analysis.
A little mnemonic for you: VR training is especially useful when real training is expensive, resource-intensive, unavailable or dangerous. If one of these criteria fits the training, companies can employ VR for more flexible training solutions.
Use Case Scenarios
VR training has already been implemented into many areas. A great example: Australian firefighters learn how to contain bushfires through VR simulation. They hold on to a real hose that is transferred into VR in real-time. Even the water pressure of the hose is simulated convincingly. In this way, the firefighters build up a routine in a discipline that they otherwise only know as an emergency situation.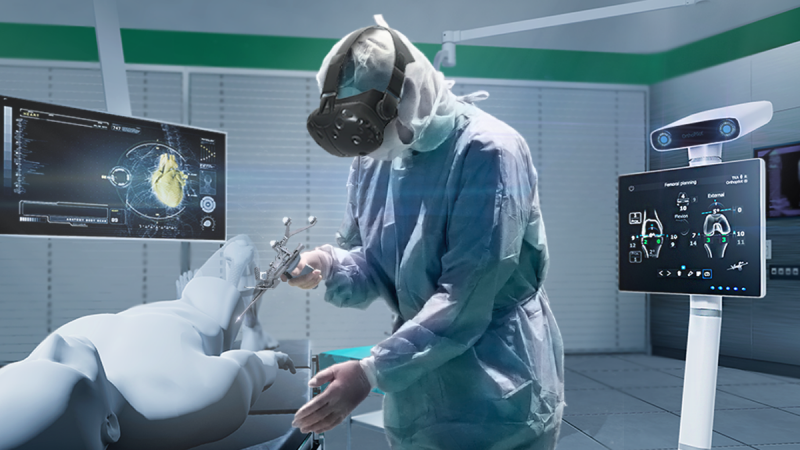 Complex processes are ideal for VR training
In companies, for example, a complicated or expensive manufacturing process can be completely reproduced in VR: The user then runs through the process step by step, including every single action - just like in a real training session.
At NMY, we use VR training for example for safety trainings of Lufthansa's flight attendants. Lufthansa is able to save millions compared to real trainings. Surgeons, on the other hand, learn about the advantages of B. Braun Melsungen AG's surgical devices in a simulated surgery – right in the middle of an operation room.
Training Beyond Reality with Analytical Groundwork
Real and virtual worlds can be intertwined for full-on immersion: An expensive specialist tool can be tracked and transferred to VR, in order to test it on a machine. The real machine can keep running because it isn't needed as training object, thus saving time and money.
Coaches also have an easier time in VR: the software supports them with clues and automatic analysis in case trainees are making mistakes. This reduces supervision efforts and helps to maintain the quality standard of trainings. Vice versa, trainees benefit from shorter waiting times and can be motivated through playful elements.
Benefits
In a VR simulation, companies are able to offer lifelike training, independently of time and location. This is a huge advantage already, especially when the training has to occur at machines or in scenarios that aren't replicable at all or temporarily unavailable. Teams can collaborate across locations and learn together – distance is no longer an issue.
Example
Deutsche Bahn, Germany's main railway company, lets their service staff practice how to operate wheelchair lifts in the virtual world. Exactly 28 movements have to be done in four minutes. If that doesn't work, the ICE high-speed train will be delayed. In the virtual ICE, Deutsche Bahn crew members can establish the necessary routine enabling efficient performance under pressure. Since the training is virtual, it can be repeated more frequently without Deutsche Bahn having to allocate an ICE for training purposes and park it in the garage, thus driving up costs.
Learning through Experience – More Flexible than ever
Since VR training involves the whole body, it has a particularly intense effect on the human brain. The motor cortex is activated and with it our muscle memory: You have probably "thought outside the box" or "dropped something by the wayside" - humans think and act spatially. Compared to other learning media, training in VR provides a much more intense stimulus. The VR researcher Jeremy Bailenson from Stanford University has proven in numerous studies that knowledge learned in VR is imprinted particularly deep into the synapses through virtual reality movement components.
VR learning professionals therefore also speak of "experiential learning": With VR headsets, the trainee does not just view a content on a monitor. They carry out the actual action. In VR, learning experiences can therefore be conveyed in a particularly flexible and comprehensive manner - semantic, episodic and procedural memory are all active in VR training. The active, experience-based learning approach should be able to increase the long-term storage of information by up to 90 percent compared to conventional methods.
With so many advantages, it is not surprising that VR training is the most common application area for virtual reality technology in companies, according to a recent market study. VR-Training is the wrong tool if real training in all possible scenarios is possible without any problems and the effort and costs cannot be reduced by the use of VR or a data-driven analysis of the training is not desired. With the progress of VR technology, however, this boundary becomes increasingly blurred.
To summarize: VR training…
is independent of time and location and therefore more flexible than real training

stimulates the memory particularly intensely

maps scenarios such as emergencies that can hardly be trained in the real world and thus promotes routines in exceptional situations

is often faster than conventional training methods
What are the target groups of VR training and how do they benefit from it?
A suitable VR scenario exists for each learning task. VR training is also suitable to digitally enhance real, already tested and tried trainings, for example by adding playful elements or because of the superior, automated analysis possibilities.
Since VR can simulate countless learning scenarios and can be repeated as often as desired, the technology enhances the quality of training in just about any training and in many professions. This is particularly important when many people need to be introduced to new topics and content as efficiently as possible. VR training scales particularly well across the board.
A few examples:
In medicine, VR training helps when hospital employees want to learn new treatment techniques.
Patients can also use VR to learn how they should behave in a certain therapy scenario in the same way as during dialysis at home.
Engineers learn how to maintain aircraft engines during a technical training in VR.
Aircraft cabin crews benefit from VR training that is independent of time and location, for example when they need to learn new safety rules quickly.
In VR, mechanical engineers learn about new machines or how to maintain old ones.
Trainees, apprentices, trainees or students react with great enthusiasm and high attention to the playful transfer of knowledge with new technology. This enthusiasm is further enhanced by virtual reality training.
Instructors and coaches benefit from comprehensive VR tracking in combination with sophisticated learning software. Both in combination give them detailed insights into the learning success of their protégés. This enables them to better control the training program.
Even managers can train in VR. For example, how to navigate challenging conversational situations with employees during a hiring or firing process. Or the confident presentation in front of a large audience.
How do coaches and instructors benefit from VR training?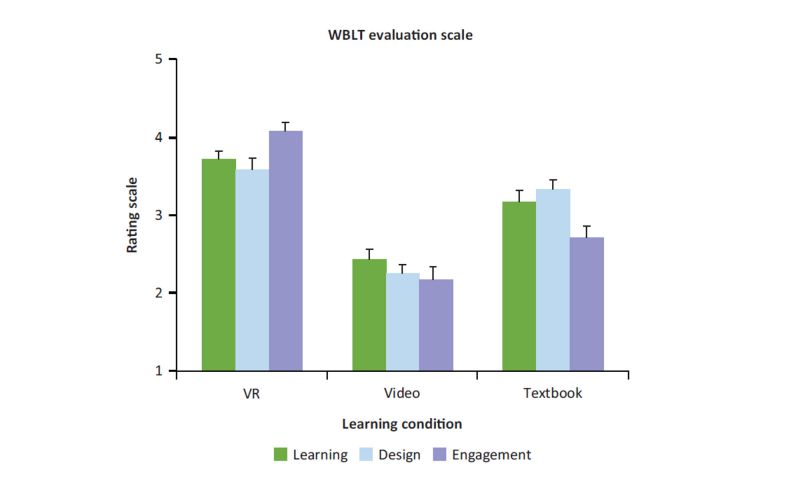 Memorable learning experience through VR
Additionally, the control software behind virtual reality training offers coaches and instructors unique analysis opportunities: they have a detailed insight into every single movement of the trainee and can automatically compare actual and target values. This makes it easier to control the training for each individual trainee.
Virtual assistents for a better orientation
Even the instruction of the training is directly integrated in VR with tutorials: This reduces the supervision effort and eliminates language barriers. In addition, trainees feel individually supported with shorter waiting times. For example, a virtual AI assistant can take over the supervision, which also serves as an emotional reference point and thus offers orientation. Bonus effect: The use of modern VR training technology contributes to the company's image as an innovative employer. A classic win-win situation.
Options for Controlling and Analysis
App Analysis

User data tracking, performance measurement, reporting

Remote Use

Check-in and checkout of users, controlling and guidance of users, live communication with users, monitoring of users, monitoring of hardware and IT, smart control technology and hardware

Admin

User administration, IT interfaces for data transfer, helpdesk & support
To summarize: VR training…
is suitable for many learning scenarios and therefore also for different target groups

offers fantastic and extraordinary learning opportunities that are just as conceivable as the most realistic ones possible

scales particularly well across the board if many people are to be trained efficiently

inspires both trainers and instructors
Hardware, Technology and Distribution
The basic rule for VR training is: the hardware must not get in the way of the learning experience. Cables that are too short, rickety headphones, bulky headsets, uncomfortable, unhygienic padding - all these are no-go's.
At NMY, we therefore use as little technology as possible and as much as necessary. The human being is at the center of the application. Accordingly, we attach great importance to comfortable solutions. What counts is the content, and that it is remembered – technical gimmicks that are not designed to help you learn unnecessarily complicate VR training.
At the same time, we have the appropriate VR technology at hand to implement comprehensive, technically sophisticated learning apps - including full body tracking in a special suit including gloves that make virtual objects tangible.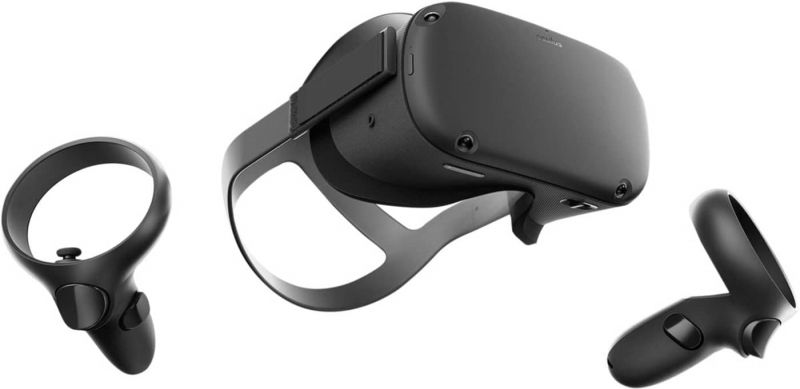 Mobile First also for VR

A sophisticated, virtual learning experience can take place optimally in a standard VR headset. Today, hardware does not have drive up costs for high-quality VR training - the best proof is provided by the Oculus Quest headset from Facebook. Costs: from 450 Euro. It works completely self-sufficiently, i.e. it does not need a cable connection to a PC, and is therefore very well suited for VR training.
Tracking leads to more Interaction
The more movements and data are gathered by the VR system, the more realistic the VR experience becomes, and the better VR training can be adapted to the needs of companies and trainees. Through the implementation of controllers, gloves, and other equipment, the body including hands and fingers can be captured and transported into the VR environment. For especially demanding trainings, NMY offers full-body transfers into virtual reality with special gloves that make virtual objects possible to touch.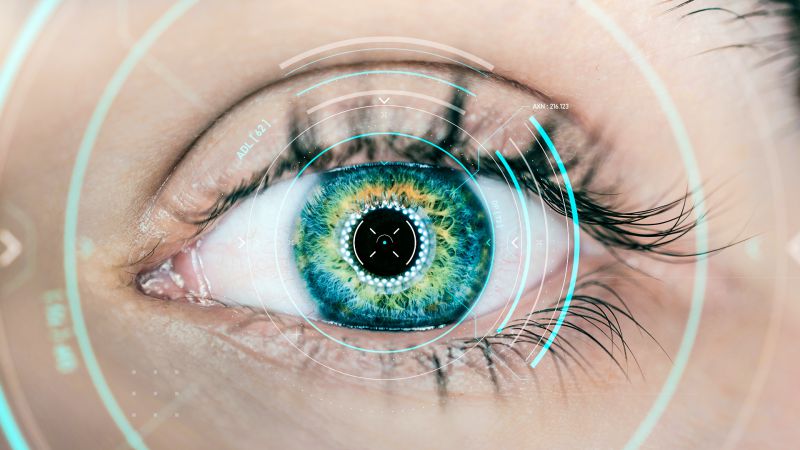 Possible interfaces for tracking and interaction
Face
Hand
Body
Language
Objects
Spaces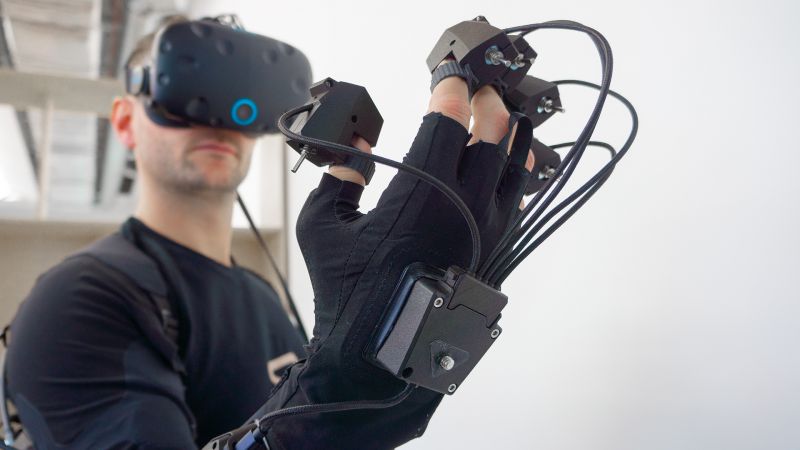 Haptic simulation in VR
Force Feedback Controller
Motion Simulatoren
Robotics
Gloves
Body Suits
Ultrasounds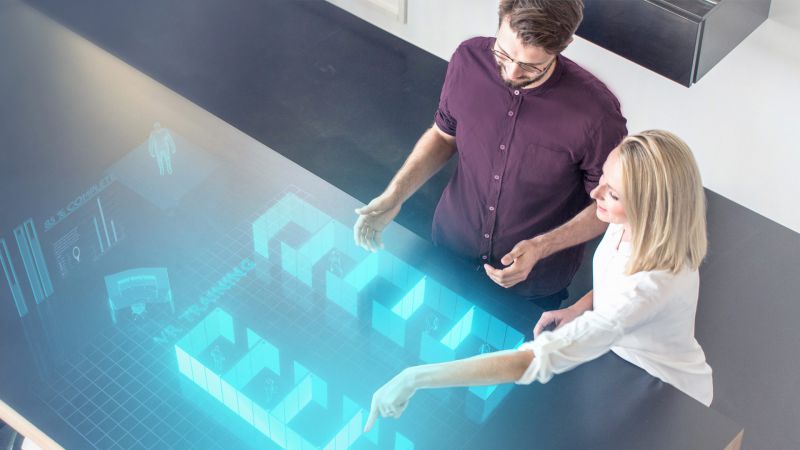 The right IT infrastructure
It is important to develop the technology setup for a VR training individually for the specific scenario, according to the needs of the trainee and the instructor. For Lufthansa, for example, we installed VR cabins for ten simultaneous individual training sessions, which the instructor can monitor and control centrally from a control station.
Learn more
How does VR training reach instructors, trainers and the trainees?
VR trainings come as apps that are distributed via app stores (like the Steam Store). However, there are also other distribution options that make sense for a specific application – think of cloud solutions – and take into account all security-related and time-related aspects.
To summarize. VR training…
is already reasonably possible with inexpensive, standard VR glasses

reproduces extraordinary as well as everyday training situations just like in real life step by step with individual movements

can integrate real objects into the VR simulation

automatically supports trainers with valuable analyses

can be distributed according to need
From VR headsets to other platforms
Sustainability with 3D asset management
Starting in the concept phase, you should plan how to optimally roll out the training program to the trainees. There are many possibilities, the important thing is that you pick the one that is best for your company:
How do the trainees get to a VR station?
Will each department perhaps be provided with a high-performance PCs with VR headsets?
Or do they use mobile, self-contained VR headsets for quick trainings?
Do you offer VR training as an app in popular online VR app stores like Steam or Oculus or in the cloud?
The transfer to alternative channels is also possible like a web-based training for iPhones and iPads.
Especially the intersection between augmented reality – digital objects embedded in reality – and virtual reality – completely virtual worlds – is large. Often learning concepts that combine VR and AR make sense, depending on the learning stage or preferences of the trainee.
And once the 3D data and content are available, it can be used in an interdisciplinary way. For example, the marketing or sales team can better advise customers with VR learning content or 3D data. Often, only minor adjustments are necessary.
NMY Best Practices VR Training
For our clients Lufthansa Aviation Training and B.Braun Melsungen AG, we have already implemented Virtual Reality Trainings, which provide six-figure cost savings every year.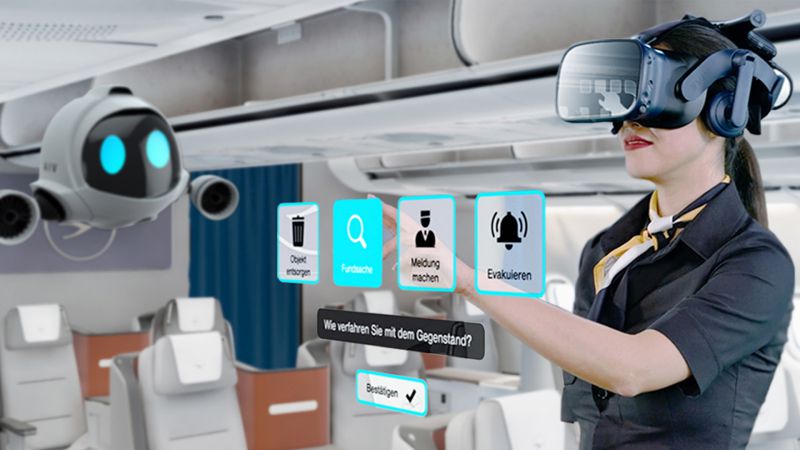 20,000 flight attendants learn about safety in VR
For Lufthansa Aviation Training, we developed a VR safety training for cockpit and cabin personnel. Every year, more than 20,000 flight attendants complete their safety training in a digital environment that is identical to reality. The tasks of the VR training are specially adapted to the training program. The trainee interacts intuitively and naturally with hand gestures in the virtual training room – without movement restriction by controller and cable. Software analyses learning behavior and success and automatically generates meaningful reports.
Find out more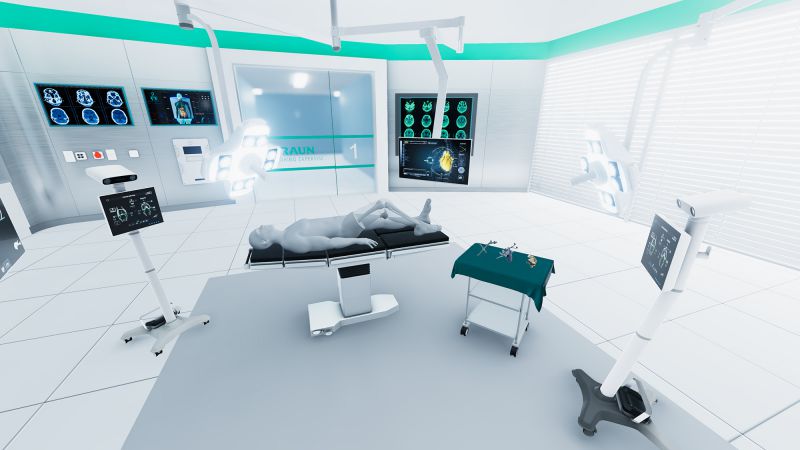 This is how we train surgeons
With our VR training and simulation tool for the OrthoPilot® navigation system, we train future surgeons on behalf of B. Braun Melsungen AG. They are taught how to work more precisely and concentrate when working with complex surgical instruments in a realistic operating room.
Find out more
What is your challenge with trainings?
How can VR make your training efforts more effective?
And what might a possible scenario look like?