What it is and how it works
Location-based Virtual Reality - A New Dimension in Entertainment
What is Location-Based Entertainment?
Attention adventure and entertainment fans, here's something really neat: Location-based entertainment (LBE) is the experience you can have in a specific place instead of at home on your couch, such as a virtual reality arcade.
The term LBE has been around for decades. It delineates "at-home entertainment", which is entertainment that works well at home. LBE used to be coined primarily by the theme park industry, but in recent years LBE has gained massive traction in the context of virtual reality. LBE-VR creates new worlds – literally.
What possibilities does virtual reality offer for location-based entertainment?
In a LBE-VR experience, you can switch off from everyday life as a team and immerse yourself with all your senses in a virtual world that is linked to the real place. This link between VR and the real world is what makes LBE-VR so special.
Since LBE-VR blends multiple levels of reality, it is also called "mapped reality" (virtual world mapped onto real space) or "mixed reality" experience (virtual world blended with the real one).
At NMY, we aren't concerned about all this technical lingo. What fascinates us is that location-based VR experiences are limitless, and immersion is at a maximum. Get ready for unforgettable, imaginative virtual adventures that blur the lines between reality and the world of computers.
Here's some inspiration for your future VR travel group:
You pick up a wooden stick that lights the way through a dark dungeon for you and your friends in the virtual world as a blazing digital torch. You can feel and smell the real wood and feel the warmth of the torch. Every step you take in reality is equivalent to a step you take in the virtual world.
You sit in a motion simulator that transforms into the command seat of the Apollo 13 in VR. You rumble hard during the rocket launch, but your team keeps their cool – then you explore the moon's surface together!
On a company tour, you'll enter the "Virtual Corporate Showroom" – with VR glasses, you'll experience a company's most important products, people and inventions interactively and concisely in one place.
Or your group will be amazed in the VR museum when the Da Vinci statue suddenly comes to life, rises from its pedestal and greets you all in person.
Perhaps your virtual tour group explores the lobby of a historic cruise ship, ready for an epic voyage across the ocean to an exceptional event (take a look here).
When is LBE-VR worth it compared to Home VR?
Museums, businesses, and other organizations can offer visitors special experiences and unique attractions with LBE-VR that become a memorable social event for groups.
It is the social experience in a group that sets LBE-VR apart from VR at home. Location-based VR offerings are suitable for single events or exhibitions in museums, as well as for permanent attractions, such as virtual corporate showrooms.
The complexity and scope of LBE-VR experiences can be scaled as desired:
Virtual Journey (Basic): Visitors put on VR headsets and synchronously watch the same content, such as an interactive animated film about the history of an exhibition or a company.
Adventure Trip (Advanced): Visitors walk through the same virtual space together using VR headsets. In a museum, for example, they can experience digital art in three dimensions similarly to real art. They see each other as avatars and can continue to talk to each other.
Immersive Odyssey (High-End): Like Advanced, but here the real environment is additionally integrated into the VR world. There is a virtual wall exactly where there is a real wall. If you touch the virtual wall, you feel the real one – virtual reality thus becomes haptic and the immersion increases considerably. This also works for tables, chairs, machines, and all kinds of other objects and devices. Sounds magical? It sure feels like it.
Naturally, a VR experience can be optimized for LBE and still offered in an adapted form for home use. On-site visitors, for example, get the full program in the group and with haptics, while home users go through the experience exclusively virtually. In this way, the VR experience accomplishes two goals: It offers the on-site audience maximum immersion with lasting impressions, while reaching many more people.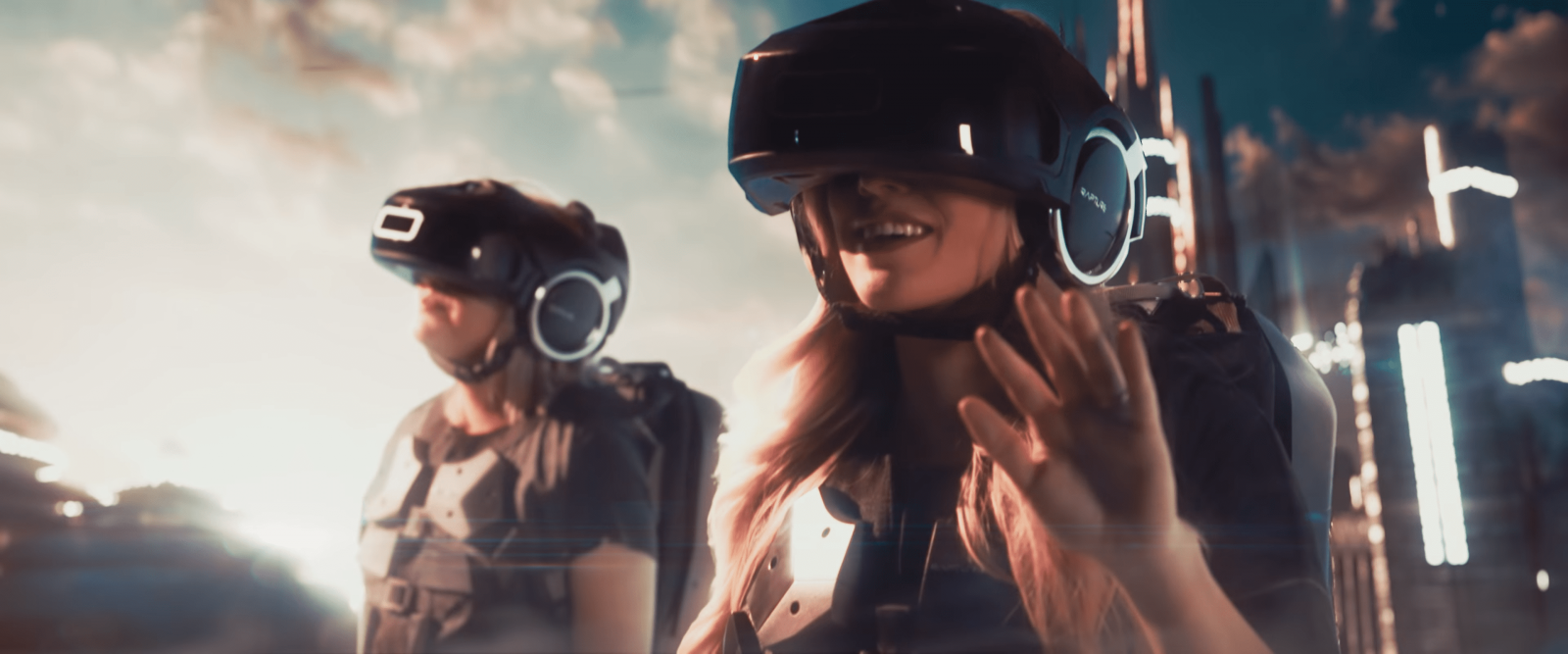 How does the technology work in LBE-VR?
The technical advances of the recent years have enormously reduced the entry hurdle for LBE-VR. Standard standalone headsets from HTC, Pico or Meta are already sufficient for a high-quality VR experience on site. A software application uses the cameras integrated in the headset to create a 3D map of the room, in which the users can then orient themselves and locate each other. Several users see each other as avatars.
These devices
have all the hardware necessary for operation built in,
are wireless,
offer integrated room and hand tracking,
can locate each other in the same room for multi-user experiences
and are capable of VR as well as AR (via camera passthrough).
Even with this relatively simple entry-level setup, high-quality LBE VR experiences are possible, which can be additionally enriched with AR elements. The camera view into reality also provides more safety and comfort.
Even more stunning graphics, even more immersion, even more concurrent users: for high-end lovers and enthusiasts, there are technically no limits with LBE-VR.
For example, the VR glasses can be recorded via VR Wi-Fi streaming from an external, particularly powerful computer. VR streaming thus offers brilliant graphics: Just imagine you're gaming on a Playstation 5 instead of a smartphone.
The immersion can be increased even further beyond graphics and sound, for example, through full-body tracking. Here, your body is completely transferred into virtual reality – an incredible experience. Individual objects can also be captured in reality and transferred to VR.
Even more immersion with LBE-VR:
We can track real objects in the environment and integrate them into the VR world. For example, a simple wooden stick becomes a virtual reality torch that lights up the virtual dungeon.
With additional devices in the room, we can simulate elements such as wind, fire, or water.
Smells are also possible, which can be a curse and a blessing. 🙄😎
In combination, all these features ensure that the real and virtual worlds merge even more convincingly. The more elements we use, the greater the immersion.
Examples of location-based entertainment with VR
The Void – Pioneer of high-end VR arcades.
The gaming industry is leading the way in LBE with great VR experiences. Especially impressive are the VR worlds of the arcade "The Void", which exactly superimposes and mixes virtual world and real gaming field. Together with Disney, The Void created unique VR experiences in the Marvel universe and is considered a pioneer of the LBE VR scene.
Hamburg's miniature world goes big thanks to VR
A particularly creative high-end example of LBE-VR comes from the Hamburg Miniature Museum: Visitors shrink themselves to dwarf size using VR glasses and enter the famous Miniatur Wunderland as a miniature version of themselves – in other words, they experience the Miniatur Wunderland as a normal-sized wonderland. Ingenious idea, isn't it? The Wunderland uses plenty of high-end hardware for this: including particularly high-resolution VR headsets, backpack PCs and full-body tracking.
Virtual time travel with Timeride VR
Since 2017, the German start-up Timeride has been offering VR time travel to historic cities. In Cologne, for example, tourists take a seat in an old streetcar, put on VR headsets and then travel back to 1926, when the British occupying forces left and euphoria spread among the city's citizens. The time travelers experience spontaneous celebrations of joy and carnival parades that had been prohibited for years. Vibrations, airflow, and even smells make the time travel more convincing. Timeride offers similar installations in many other German cities.
Eternal Notre-Dame: VR time travel to old Paris
In the VR experience Eternal Notre-Dame, VR users travel through 850 years (!) of history of the world-famous cathedral: from its construction in the Middle Ages to its current restoration. The VR experience is designed as a traveling exhibition for several people. It will travel around the world after its launch in France.
Virtual Reality Escape Rooms
Conventional Escape Rooms are already the perfect adventure for groups – together, friends and acquaintances have to escape from a locked room by solving puzzles and finding the key to freedom.
In virtual reality, Escape Rooms become an even more exciting ride: groups visit fantastic places that are inaccessible in reality. Instead of escaping from a normal living room, they free themselves from a space capsule on Mars, for instance, or escape from the dungeon in Castle Dracula. In the process, they solve spectacular tasks that would be impossible or too dangerous in reality.
VR Exhibition in a Museum
Another project from NMY: Visitors of the Günter Grass Museum walk virtually through the scenes of the classic of world literature "The Tin Drum" (Die Blechtrommel). In the process, they beat the famous red and white drum, burst a light bulb with high-pitched screams, dissolve fizzy powder, and blow out candles on the birthday cake. These multisensory perceptions make the world of the literary masterpiece even more approachable. "Inside Tin Drum" specifically attracts young audiences.
See more
Location-based VR for Entertainment, Education and More – Summary.
LBE-VR provides institutions, businesses, and organizations with unique and memorable experiences. Humans experience LBE Virtual Reality as similar to reality thanks to its anchoring in the real place. Because LBE-VR works for multiple people at once, it becomes a social event that everyone remembers.
LBE-VR is valuable for institutions, companies, and organizations when they want to inspire and bring people together locally with unique experiences, create special VR experiences that are not possible at home, provide high intensity and immersion so that users can better memorize information – or simply have a lot of fun.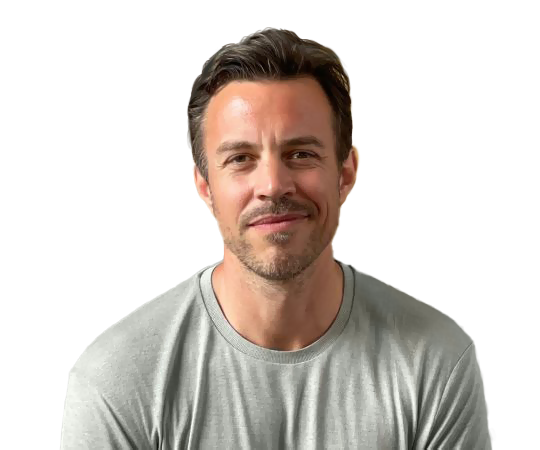 Interested? Questions? Want to talk?

Then just say hi - either by mail or book a quick video call with me. I look forward to interesting questions and to getting to know you!
Your message is being sent...
All done!
We'll get back to you as soon as possible.